The
30

Days

2

Shredz Video Masterclass
Reprogram Your Mind and Metabolism to Torch Fat, Sculpt Muscle and Create Your Dream Body in 30 Days or Less *
Fast, permanent weight loss.
Without hunger.
You don't require willpower.
You don't require a doctor.
You don't have to keep failing.
Here's the amazing story of the revolutionary bio-hacking system that's helping ordinary people lose 20… 30… 40… even 70+ pounds of pure body fat without feeling a single hunger pang.
Dear friend,
If you want to lose between 10-20 pounds of bodyfat in the next 30 days without feeling a single hunger pang… and if you want to finally eliminate brain fog, get rid of inflammation, and burn off stubborn body fat for good, then this is the most important message you'll ever read.
Here's why:
My name is Jay Campbell and I've been in the biohacking space for the past 30 years. I've experimented (on myself) with every fat loss plan and compound out there. And I've created what I believe is the fastest way to lose pounds of stubborn body fat ever created.
I know, I know…
It's a bold claim.
After all, there's a million products, supplements, courses, and diet plans out there that all say something similar.
Well, I'm here to tell you that almost all of them are complete and utter bullshit.
On the surface, fat loss is simple.
You eat less and you move more. This creates a calorie deficit which causes your body to burn stored body fat for fuel. This is the model that almost all fat loss programs are based on – including 30 Days 2 Shredz.
You live in a world full of contaminants and hormone disruptors that make it next to impossible for the average person to lose weight.


You can't lose fat if you're starving all the time… because you wind up binge eating.



You can't lose fat if you feel like shit every day because you're too exhausted to function… so you turn to food to provide comfort.



And you can't lose fat if your mind is focused 24 hours a day on when you'll "allow" yourself to indulge in your next meal.
So…
What do you do?
Well, you have to play a different game.
You're not going to "willpower" your way into fat loss if all of your biological systems are actively fighting against you.
That's where my brand new course comes in:
The
30

Days

2

Shredz Masterclass
I recently released by 'magnum opus' on fat loss, a book called 30 Days 2 Shredz. It became an instant bestseller in 6 different health and fitness categories.
It's a 440+ page behemoth of a book, detailing my entire system to get you insanely shredded in the next 30 days without hunger… even if you're obese, inflamed, and haven't been able to lose weight in the past.
People loved the book.
But they had questions.
So I decided to hold a special "masterclass" where I went page-by-page through the book and walked people through how to implement my system for maximum effectiveness. I answered hundreds of questions and helped people troubleshoot every possible scenario.
The info in there is so powerful, I wanted to package it up and make it available to the public.
If you've read 30 Days 2 Shredz and you're looking for a "kick in the ass" to get started… this is it.
Whether you're an advanced biohacker who's experienced with fasting, weight training, cardio, and fat loss agents… or whether you're just starting your first ever fat loss journey, this masterclass walks you through the ins and outs so you simply CAN'T FAIL.
What People Are
Saying

About The
30 Days 2 Shredz Masterclass
I recently had the immense pleasure of embarking on a life-altering journey with the 30Days2Shredz fitness program, and I must express my profound gratitude for the transformation it has brought into my life. This 30-day expedition was not just about physical fitness; it was a holistic metamorphosis that set me on a trajectory of profound mental and physical empowerment.
From the outset, the program embraced a comprehensive approach, seamlessly blending cutting-edge workouts, personalized nutrition plans, and unparalleled guidance that set the stage for an inspiring shift in my lifestyle. The carefully curated workouts pushed my physical limits, fostering discipline and resilience as I progressed through the program.
One of the most impactful aspects of 30Days2Shredz was its emphasis on mental fortitude. The program instilled in me a newfound determination and a robust mental framework, vital for achieving my fitness goals and far beyond. Daily motivational messages, mindfulness practices, and insightful coaching sessions bolstered my mental resilience, helping me conquer self-doubt and navigate life's challenges with unwavering confidence.
Through the personalized nutrition plans, I not only achieved significant physical gains but also developed a healthier relationship with food. Learning to nourish my body effectively, understanding the nutritional value of different foods, and making sustainable dietary choices were invaluable lessons that have permanently reshaped my eating habits.
What truly sets 30Days2Shredz apart is the unwavering support from Jay, Hunter, and fellow participants. The sense of community fostered an environment of encouragement, where everyone cheered each other on, celebrating milestones and victories, big or small. This camaraderie amplified my motivation, providing an anchor during challenging times, and making the journey not just transformative but enjoyable.
As I reflect on my 30-day voyage with 30Days2Shredz, I stand in awe of the remarkable changes I've witnessed in both my physique and my mental well-being. I now approach every day with renewed vigor, armed with the knowledge that I possess the strength, both physically and mentally, to conquer any obstacle life throws my way.
Thank you, Jay, for equipping me with the tools and mindset necessary for success and for lighting the path to a healthier, happier, and more empowered version of myself. I wholeheartedly recommend this program to anyone seeking a true transformation, not just in their body but in their mind and spirit as well.
– Andrew W.
The four biggest reasons why people fail to lose fat and keep it off are:
Their hormones are completely decimated.
They run out of willpower
They get hungry and can't deal with it
Why
30

Days

2

Shredz Works Better Than Any Diet You've Tried Before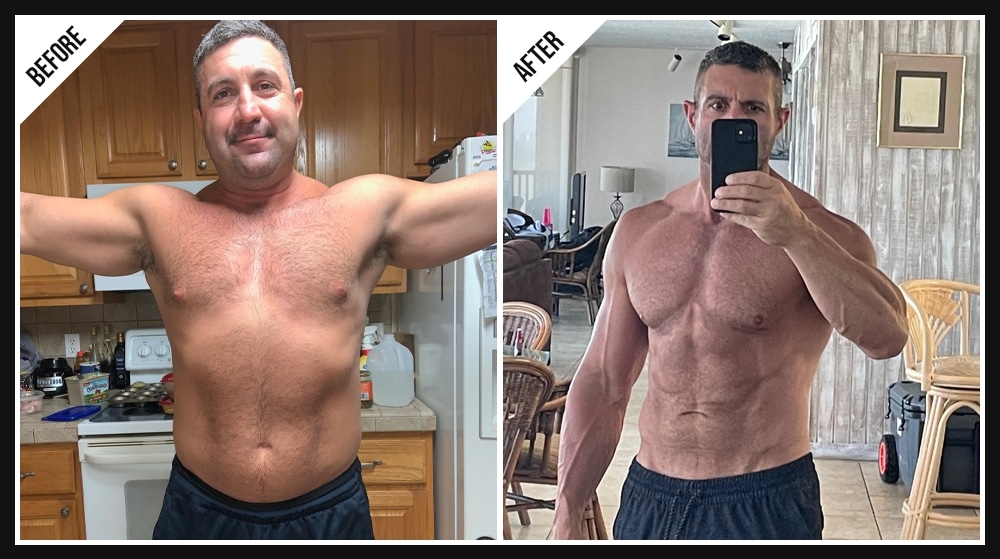 Frequently Asked Questions
What exactly is the "30 Days 2 Shredz Masterclass"?
The 30 Days 2 Shredz Masterclass is an in-depth course that walks you through the step-by-step process outlined in the bestselling book, "30 Days 2 Shredz." It's designed to help you lose stubborn body fat without feeling hungry, all within a span of 30 days.
Who is Jay Campbell and why should I trust his methods?
Jay Campbell has been in the biohacking space for over 30 years. He's experimented with various fat loss plans and compounds, and his approach is backed by his extensive experience in the field. His book, "30 Days 2 Shredz," became an instant bestseller in multiple health and fitness categories.
I've tried multiple weight loss programs before. How is this one different?
Unlike many other programs, 30 Days 2 Shredz addresses common obstacles like hormone imbalance, hunger pangs, and the lack of willpower. The course also teaches you about advanced strategies like fasting and using cutting edge fat loss agents to optimize your results.
Do I need to have read the "30 Days 2 Shredz" book before taking this course?
While it's beneficial to have read the book, it's not mandatory. The masterclass covers the material in the book in detail and answers questions about its implementation.
How long is the course and how is it structured?
The course consists of over 11 hours of advanced fat loss training. It walks you through the book page-by-page and delves into troubleshooting various scenarios to ensure you achieve maximum results.
What if I have questions during the course?
This masterclass was designed based on addressing hundreds of questions from previous and current readers.
While it is comprehensive, should you have any specific questions, I created my private online membership program Fully Optimized Health as a place where hundreds of other Men and Women are answering questions in order to biohack their best lives. Not only that but both Hunter and I are in the group actively answering the questions of group members.
Is the course suitable for beginners?
Yes, whether you're an advanced biohacker or just starting your fat loss journey, the masterclass is designed to guide you through the process ensuring success.
Is the $499 fee a one-time payment?
Yes, the fee for the masterclass is a one-time payment of $499, giving you access to over 14 hours of advanced fat loss content.
Can I get a refund if I'm not satisfied?
There will be no refunds under circumstances!
Are there any side effects or risks associated with the methods taught in the masterclass?
While many people have achieved positive results using Jay's methods, it's always recommended to consult with a healthcare professional before starting any new health regimen.
* Medical Disclaimer: The information in this masterclass has not been evaluated by the Food & Drug Administration or any other medical body.  I am not a doctor.  I do not aim to diagnose, treat, cure, or prevent any illness or disease.  The information presented in this book should be regarded as advice and opinions based on my experience and research.  All of my information is shared for educational purposes only and should not be interpreted as medical advice.  You must consult your doctor before acting on any content in this book or video, especially if you are pregnant, nursing, taking medication, or have a medical condition.