Since I wrote The Definitive TRT MANual, I've been overwhelmed with questions asking for help with fitness and hormonal optimization goals. As much as I'd like to say it's "all me" providing them wisdom and knowledge, I'm proud to say I get a ton of help from my mentor Jim Brown. To say there is nobody like Jim, would be a gross understatement.
A former 300# competitive heavy weight body builder, gym and supplement company owner, there is nothing he hasn't experimented with to maximize his health and fitness. Jim is the fit bro's GURU, the expert's expert and the guy top coaches seek out to learn the absolute best practices for getting their clients into contest condition, safely and quickly. Jim is the same guy who has trained and consulted with countless pro athletes, pro bodybuilders, world class olympians, physique models, powerlifters, and ultra endurance athletes on every facet of nutrition, performance, supplementation, fat loss and muscle gain. At 45 years old, 6-3, 255# and 8% body fat, Jim talks the talk and walks the walk as the picture of perfect health. Don't believe me? Look at his pristine blood work.
Don't know how to read his blood work? Don't know why you should?
If you're serious about developing a muscular, lean and healthy physique -pay very close attention to what I'm about to say. To help as many men and women as possible, Jim and I have put together a ONE TIME 45 MINUTE EVALUATION not found anywhere else. A NO BULLSHIT-NO NONSENSE personalized consultation with both of us discussing EVERYTHING including your:
Diet 

TRT/Hormonal Optimization

Blood work

Training

Supplementation

Mindset

Anything else relevant to crafting the physique of your dreams.
This is NOT your run of the mill BRO-SCIENCE coaching program. This is real expert advice from two of the most authentic people in the fitness industry with no strings attached. Joshua Smith recently said on the Ask Jim and Jay Podcast that to work with Jim one on one would cost a small fortune? Not at all. For just a one time fee of $299, we tell you EXACTLY WHAT YOU NEED TO DO to build your best body ever.
After you're 45 minutes are up-we GUARANTEE you'll understand how to read your blood work, and more importantly, you'll have a clear road map on how to build a better you. And seeing is believing right? Jim has been coaching Bryan Krahn and I for the last 6 months. Bryan and I have been at the game for more than 20 years and seen and done it all. But Jim has an eye unlike most dudes. He made some slight tweaks to our training program and our diets and the results have been phenomenal. But don't just believe the words, let our recent pics do the talking.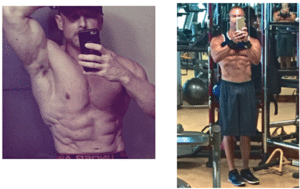 By the way, you guys knows we're in our 40's, right? Ok, enough selfie photos.
If learning how to take your body to its ULTIMATE LEVEL while maintaining your health and increasing longevity interests you, book an evaluation with us.
And honestly, don't wait.  What could be more important than living a fully optimized life?