To all the Friends, Colleagues, Supporters and Fans of Dr John Crisler I leave this memorial.
John was a close personal friend (that I met online in 2001) and I loved him very much. 
He was extremely giving in helping me with information and editing for my books-especially The TRT MANual. He and I did multiple podcasts together and I always found him fascinating to interview.
We got the chance to meet personally in 2014 at A4M in Las Vegas and he connected with my wife Monica as well. He often messaged Monica about his love for animals and we all developed a pretty tight knit relationship through the power of social media/Facebook. I was always very fond of spending time with him at the various medical conferences. John had such a keen wit and a supreme love and appreciation of good food.
Our conversations discussing the realms of the quantum I will never forget. John was also incredibly instrumental in providing me exposure to the powers that be at the various medical conferences. In fact, he would often go out of his way to introduce me to the VIP's wherever we went.
I will never forget him introducing me to a room of Medical personnel/Doctors as the smartest guy in the room. He was also extremely giving in helping me with information and editing for my books. That was all the amazing things John did for me. What he did for so many others is his real legacy.
Before we ever formally met, I knew him as Swale from the MESO-Rx Forums online. It was there I would notice him responding to just about every single Man who posted their endless number of questions regarding Testosterone and Anabolic Steroids. John became the "Guy" in both the Medical community and the "Gym" when it came to eloquently explaining the value proposition and life enhancing benefits of therapeutic testosterone.
Who can forget the amazing expose Playboy Magazine did on him in 2007 as Dr. T? John's book Testosterone Replacement Therapy: A Recipe for Success was a Godsend for me in helping me clarify my thoughts when writing my first book, The TRT MANual.
John gave more of his time to Men in the anabolic steroid using community than any Doctor in the history of the world. His contribution (all pro bono for the most part) is legendary. He would donate entire weekends to evaluate men who had abused AAS in helping them recover their sexual function and hormonal axis. As one of his closest personal friends Gene Devine eloquently stated, "John was the guy who left no man behind, no matter how troubled or screwed up".
John was an amazing Doctor(who entered Medical school in his late 30's) and a man who stood up to the orthodoxy of the Medical profession. He knew before the majority of the world what kind of wonderful life enhancing role therapeutic testosterone played in all humans lucky enough to experience its use. He even said this in the Mid 2000's:
Dr. Crisler is a strong advocate for testosterone replacement therapy, which he describes as, "the most significant advancement in mens's health in history".
He took his understanding of Testosterone as the wonder molecule and repackaged it into a brash, cocky persona that went with him wherever he went. He had this way of intimidating people and making them feel uneasy because he had such a way with words and was so forceful in his opinions. People in the industry started to refer to his unsupported statements as 'Crisler-isms'.
John was truly a Man's Man and he was never afraid to stand up to anybody he disagreed with. Without a doubt his greatest adversary was Dr Neal Rouzier. Every single year John would challenge Neal at AMMG with his beliefs that using micro-dosages AI's was ok and not as harmful as Neal made it out to be. For those of you close enough to the conversation around AI's, you know that John decided to finally acknowledge the evidence Neal had been providing for nearly a decade (blocking estrogen is only harmful to biological systems) and he very publicly removed himself from AI's in early January of this year. Unfortunately we didn't get a chance to see John expound on his findings as he would have no doubt done. But the torch has been passed to other Doctor's who learned from and trained along side him. In fact at the next AMMG conference, Dr Robert Kominiarek is taking John's speaker role and his lecture will be fittingly titled:
"The Dangers of Estrogen Inhibition"
In his passing let us all honor who John was:
A Powerful Man, Doctor, Pioneer and Revolutionary, who was brave enough to challenge the status quo and ultimately change optimization Medicine.
As I have said and will continue to state, John's legacy will live on in me.
My passion, like John's, is being truthful to the best ways of optimally treating men.
Nobody will fight harder to see that he will be remembered as the legendary figure he was.
RIP John Crisler!
I'd further like to honor John's desire to help men achieve optimal health through the eyes, ears and thoughts of others.
First from Dr Keith Nichols (who Dr John had recently reached out to ask if Keith would become his Doctor so he could learn more about the Trans-scrotal approach. Keith agreed and they had a profound conversation where they buried the hatchet from their quarrel on the Doctor's Roundtable.)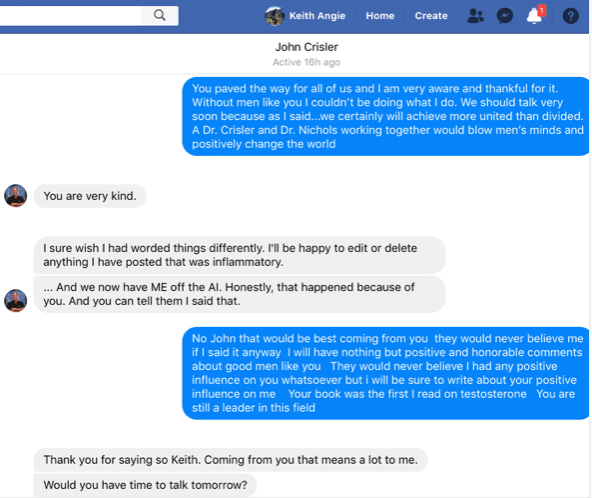 From Rick Collins:
From Dr George Touliatos:
From Facebook:
Thank you John for everything you did for the Optimization community. You will be sorely missed but never forgotten. Your message, mission and mystique will strongly live on in me and everybody I am blessed to connect and work with. If you'd like to attend John's service it will be Wednesday January 23rd service at  Palmer Bush Jensen Funeral Home, in Holt, Michigan.