The wonderful world of therapeutic peptides continues to expand in size and reach.
Millions of people from all walks of life are starting to hear about them and the quantum healing they provide.
Widely used peptides are continuing to find new medical applications, such as the use of GLP-1 receptor agonists like Tirzepatide in the possible treatment of substance addiction.
Brand new peptides are being discovered and synthesized to this very day for diseases like Alzheimer's and much more.
But what's ultimately missing is a practical yet interactive tutorial for using peptides geared towards the absolute newbie.
A step-by-step, hold-your-hand, color-by-numbers approach that walks you precisely through how to use peptides for the very first time and forever after.
Which is why I am beyond excited to bring to the ether a brand-new product…
Peptides Demystified: How To Use Peptides For The Very First Time And Forever with Hunter Williams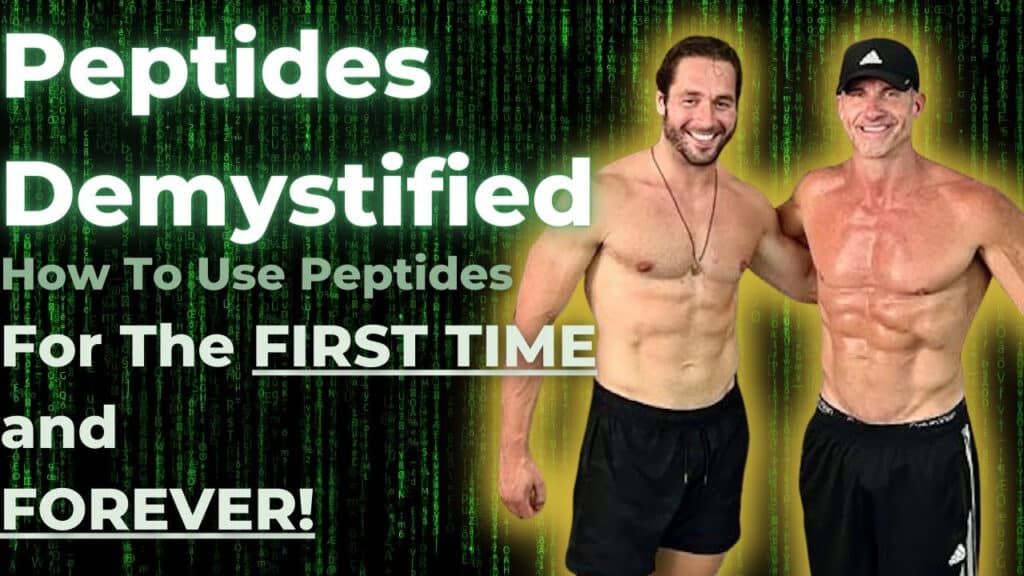 If you've been wanting to jump aboard this global trend but don't have a single clue how to get in line, this is your Golden Ticket to learning how to use therapeutic peptides from every conceivable angle.
However, before you get giddy and purchase this webinar, I highly recommend you first read about why I created this product and what is going to be covered
Nothing on Planet Earth like this exists (until now), no question is left unanswered, and no stone is left unturned.
Why I Created Yet ANOTHER Premium-Level Product About Therapeutic Peptides
If you've read anything I've written for the last 3 years, you may be scratching your head in confusion about why Peptides Demystified has to exist in the first place.
Jay, you already have an entire hub on your website dedicated to every single article you've published on peptides.
You have a FREE PDF on the top 10 mistakes first-time peptide users make and how to avoid them.
You have an online peptide calculator that makes reconstituting peptides and dosing them brain-dead simple for even a high school graduate.
You have tirelessly directed people to Limitless Life Nootropics, the world's best vendor for ultra-pure peptides who you personally interviewed, to save people hours of searching where to buy peptides online (save 15% with code JAY15).
You JUST released a brand new international best-selling book on peptides that still ranks #1 in Men's Health nearly four months after its release.
You already have a premium-level course about peptides with Nick Andrews that goes even deeper into using them at a more advanced level.
You have been on countless podcasts such as Mind Pump and Rich Cooper's Playing To Win to dumb this stuff down even further to a more mainstream audience.
And you would be exactly right.
Yet it still isn't enough… and there are five reasons why.
Reason #1: Confusion, Uncertainty, and Overwhelm
I really thought I had done everything under the sun for people over the last 3 years with all of my previous offerings, both free and paid.
But in spite of all that I was STILL getting the same questions over and over again. 
(Many of which have already been addressed in my emails and my articles if people cared to read them from start to finish)
And as an extremely busy entrepreneur, I simply don't have the time and energy to respond to the thousands of messages coming my way every day… even if I cloned myself hundreds of times.
I wrote off all of these repeat questions as a sign of laziness and frugality.
Yet when I sat down to think about WHY this is happening, it occurred to me some people just simply can't grasp the concepts I teach until they SEE them in action with their very own eyes.
The final piece of the puzzle to finally give people the confidence and assurance they need to get started by themselves.
In fact, you could argue a lot of the knowledge I openly share is arguably theoretical unless it is directly put into practice.
So it's no surprise I meet long-time readers who
:
Have yet to place a single order for peptides (or stock up on a year's worth of supplies without doing any reading whatsoever)
Have yet to do the math and understand exactly how to reconstitute peptides properly
Have yet to inject themselves a single time
If you belong to one of these groups of people, know I AM calling you out with the intent of love and service.
So I created Peptides Demystified for the information junkies who are hopelessly stuck.
Because in life, reading books and watching videos isn't enough: You have to DO the thing if you want to BE the thing.
Which is EXACTLY what I'm doing with this webinar.
Reason #2: Unrealistic Expectations
While peptides indeed make your life 10x easier and turn unsolvable health conditions into minor inconveniences, peptides are the furthest thing away from magic bullets.
Many people fail to realize that peptides work with the body, not on it.
How effective they are is directly proportional to your overall health; the more fully optimized you are, the better they will work.
YOU are the ultimate rate-limiting factor in determining whether you experience something or nothing when using peptides.
Therefore, I'm making it my personal mission to be fully transparent and ensure you are as informed as possible in understanding what these wonder agents can and cannot do.
Peptides are fundamentally useless if we fail to be honest about the role individuals play in their healing effects.
Reason #3: Helping People Break Free From The Clutches Of Big Pharma
Peptides are without question a major thorn in the sides of Big Pharma and the medical-industrial complex.
Because they are superior to conventional medications/treatments, treat the root cause of disease instead of the symptoms, and therefore cannot be supremely profitable…
…mainstream medicine is fighting tooth and nail to stop you from having access to peptides, much less knowing about them.
This course will help you take charge of your own health and keep you away from the tyranny and corruption of modern-day healthcare FOR LIFE!
In doing so, you will live longer, live leaner, live stronger, and above all — live a legendary life.
That's what peptides do for me and Hunter every single day, and I can guarantee they will do the same for you.
Reason #4: Peptides Are STILL An Undiscovered Goldmine of Fully Optimized Health
When people ask me to use an analogy to show just how novel and under-valued peptides are, I talk about the rise of Bitcoin in the early 2010s.
Say it's 2014 and you're just hearing about this brand new "digital currency" that's exploding in value.
You write it off as a scam, but your best friend swears up and down it is the literal future of all things finance, so you put your skepticism aside and try to figure out what's going on.
But out of a stroke of luck, your friend gives you a comprehensive course to help you become a Bitcoin expert – how to purchase it, where to safely store it, how to use it, etc.
You finish the course and you put $10,000 of your own money… after not touching your investment for years, suddenly your investment is now worth several hundreds of thousands of dollars!
Well, I'm here to tell you that where Bitcoin was in 2014 is exactly where peptides are in 2023.
Peptides have exploded in popularity within the global health and fitness industry over the past 18 months, and everybody — average Joes and A-list celebrities — is now discovering what people like me have known since 2004.
We're talking about the literal future of taking your health into your own hands and escaping from the "sick care" industry once and for all.
Don't get too excited just yet, because like Bitcoin, peptides can be considered as the "decentralized" form of medicine.
Due to their grey market status and the controversial reputation they've garnered for themselves, peptides are effectively grey market compounds.
Therefore, just like you had to teach yourself the ins and outs of Bitcoin during the massive cryptocurrency boom, you'll also have to teach yourself how peptides work and the right way to use them.
Reason #5: The Power Of First-Hand Experience Over 25 Years
Hunter and I have a combined 30 years of experience in using therapeutic peptides.
Myself, I started in 2004 and have since mentored thousands of men and women on how to use peptides properly and safely.
I have forgotten more than many doctors and biohacking gurus will ever know in multiple lifetimes… and this is being generous in assuming any of these people even use peptides themselves!
Let me put it this way: Let's say I gave you a year to watch a thousand hours worth of online guitar tutorials, buy you a brand new Fender, and asked you to play Purple Haze.
The catch is that you cannot touch a guitar during that entire year.
Would you be able to do it?
Even if you were diligent and spent every single day of that year watching all of the tutorials, the answer would be a resounding HELL NO!
Any doofus would immediately tell you that my proposal is a losing game because passively watching videos is no way to learn any useful skill in life.
And yet, many people adopt this exact mentality when it comes to the learning curve of peptides.
The good news is you won't have to waste months and years learning how to use peptides when you gain access to the insider secrets Hunter and I will share with you.
Having coached people in real life and through the Internet on using peptides, I can confidently say ONE interactive session is all you need to figure out reconstitution, dosing, and injection.
I say this because I've tailored my coaching from the feedback of thousands of readers who were overwhelmed over how to use peptides.
It's so dead simple you'll wonder why you ever had any anxiety or hesitancy in using these Golden Age agents.
You won't be scared of needles, you won't be fearful of side effects, and you (most likely) won't have any more questions to ask.
Do things the right way only once – as you'll learn in Peptides Demystified – and you will be a competent peptide user for life.
That's the guarantee I am offering to you.
What You Will Discover In Peptides Demystified
While my real-world experience and expert knowledge allow me to use peptides like they're second nature, not everyone is blessed to have lived my life.
Using peptides requires a bit more active brainpower regardless of your intention – building muscle, burning fat, looking younger, healing injuries, etc.
And being the Internet's foremost expert on peptides means I shoulder the burden of being inundated with overwhelming demand from my audience to answer their daily questions about how to use peptides successfully.
I hear you, and I see you, which is why after spending hundreds of hours of prep, filming, and research, Peptides Demystified was born.
This is a 6-hour, zero-to-hero video course for the complete peptide newbie who is overwhelmed and has absolutely no idea where or how to get started.
It is the world's first and only comprehensive guide that breaks down every concept, explains every nuance, and answers every single question you could imagine about mastering the use of peptides… even if you have NEVER used them before.
This is never-before-seen content on how to use peptides for the very first time within the context of health and longevity.
And to make things even easier, we also provide a downloadable PDF guide summarizing the important highlights of all 16 modules.
Plus you can view the on-demand video replays at any time you want, at the speed of learning that works best for you.
In fact, here's a sneak peek of the nitty-gritty details you're going to discover when you purchase Peptides Demystified:
A RARE, live demonstration of how to properly reconstitute a peptide for optimal storage, measure the precise dosage of peptide you need, and self-administer a peptide safely and properly via subcutaneous or shallow intramuscular injection. This is not your average injection tutorial where a crash dummy is used. LITERALLY, Hunter will provide you on-screen instructions and even do an injection right in front of you with a REAL peptide. You'll feel ashamed once you realize how fast, stupid-simple and effortless this process is.
The "antibody buildup" phenomenon that explains why peptides eventually stop working… and what you MUST do if you want your favorite peptides to continue being as effective as they were on the very first day you used them. You will not see this being talked about on any bodybuilding forum or disclosed by any fake peptides experts. This one piece of information instantly separates people who actually use peptides from those who just write about them after reading a few abstracts on PubMed.
The all-encompassing crash course on the exact dosing, scheduling, and use cases for every functional peptide, both the popular well-studied ones and the unknown experimental ones. We've gone through thousands of peptides, isolated the ones best suited for achieving certain health goals, and organized them into important categories for you. In less than 3 hours you will be completely self-reliant when using peptides and know more than most peptide physicians ever will. 
My fail-safe approach to stacking multiple peptides together at the same time for maximum effectiveness and zero harm. This answers the common questions of how many peptides you can use at once, and when it is appropriate to mix peptides together in the same vial. There are very specific "DO" and "DO NOT" rules when it comes to using more than one peptide simultaneously, and almost everybody — even the veteran users — screws this up.

What key factors you MUST fix and address first before you ever touch a peptide. We'll inform you of the equipment you need to buy and the tests to run so you are in the best state possible to benefit from using peptides. The current state of research chemical companies, the future of compounding pharmacies, and more will be addressed to give you complete awareness of what you are getting into. 
An exhaustive 2.5-hour Q&A session from our private audience that guarantees to answer at least ONE pressing question you've had in your mind about peptides. If you have any concerns or fears, I am 100% positive at least one of them has been asked by our audience and fully answered by myself and Hunter. For instance, if you ever wondered how to transfer and store your peptides while traveling internationally, we have you fully covered. 
Bonus Items 
We don't want Peptides Demystified to be a bunch of videos created on the fly… for this offering, we truly want to under-promise and over-deliver.
So on top of everything promised — the 16 video modules accessible on-demand, the downloadable PDF, the 2.5 hour Q&A — we're also throwing in the following four AMAZING bonuses free of charge:
Video breakdown of "The God Stack" – my exact stack of peptides, medications and supplements I use year-round on a daily basis to stay supremely lean and strong at the young age of 55
The Peptides Bootcamp – a separate 2-hour live recording of myself walking through every question imaginable related to peptides
Spiritual Alchemy Lecture – a private recording for my insider circle about how to integrate advanced health, biohacking, and quantum metaphysics to live a spiritually optimized life
How To Use Human Growth Hormone (HG) – a 1-hour live recording of myself and Hunter Williams explaining exactly how to use pharmaceutical grade HGH as part of an optimized life, including ANOTHER separate live Q&A with my private members
This is as good as it gets for my offers… just know I could easily charge many hundreds of dollars for each individual bonus and mark them up as upsells.
What People Are Saying About Peptides Demystified
If you're having any doubts about Peptides Demystified and all of the benefits I have promised, take a look at some of the testimonials left by people who had the privilege of seeing all 16 modules LIVE.
The responses have been overwhelmingly positive and there are only so many we can include.
"Just listened to your podcast and I can't believe how informative it was. You guys covered so much and answered all of my questions. I started using peptides 6 months ago and tried to research as much information as I could. I wish this podcast was available at that time, it would have saved me so much time and confusion. If you are curious about peptide use and have questions this is the perfect place to start." – Dana Andrews
"I'm a RN and Functional Medicine Practitioner with a private practice. I'm learning and trying peptides myself so I can also help clients. I really enjoyed your straightforward information. I've been researching and listening to lots of people and honestly I found your stuff to be very precise, pretty transparent, and I love the fact that you've been using this for so long that you have a lot of anecdotal & empirical information to share. Please keep up the great work!! I'm looking forward to getting your PDF and joining your group! God bless!" – Rhonda Katan, RN
"Hi Jay. Just wanted to thank you, Hunter, and the rest of your team for putting together such an informative webinar. I have been looking into Peptides for several months now and have been overwhelmed with all the different opinions. However, I now know where I need to go to sort everything out and move forward with Peptide Therapy." – Robert Castline
And I'm saving the very best for last… this testimonial came completely out of the blue from the legendary Internet Marking titan himself, Mr. Frank Kern:
"Thank you for an informative webinar. From the simplistic to the highly informative, both of you did a magnificent job. I found the open discussion really compelling and complemented what I learned from the peptide book. One area I would like to have your insight on is NMN, NR vs. peptides as anti-aging treatments. Thanks to both of you."
He liked the second half of the webinar so much that he even went out of his way to leave us ANOTHER review: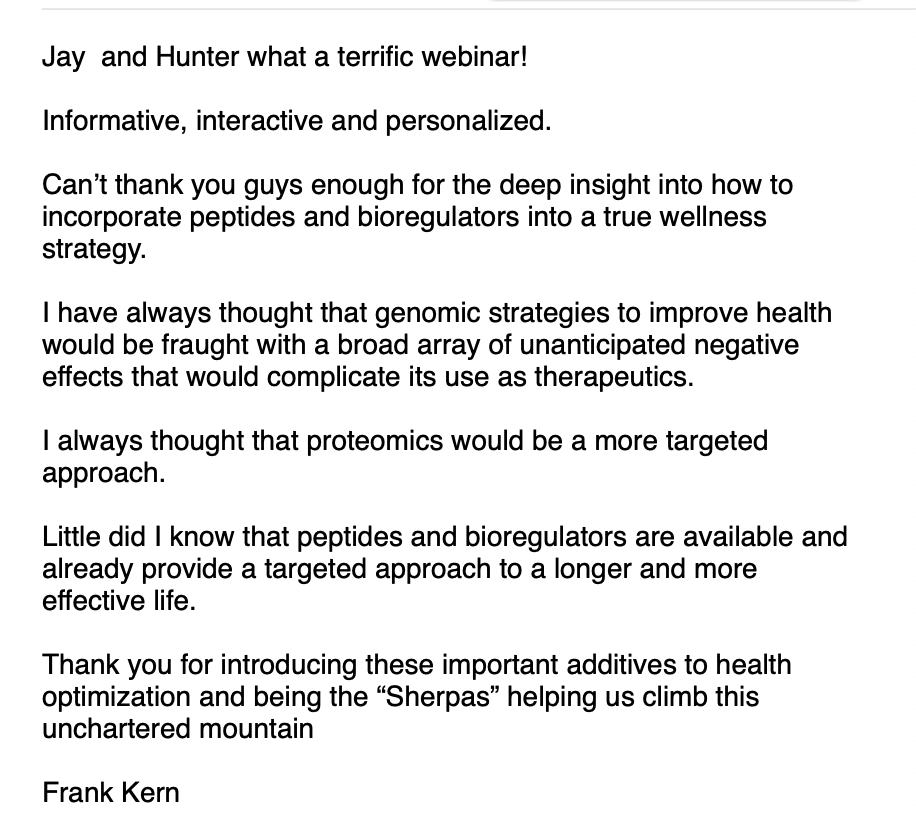 If that's not the endorsement of a lifetime, I don't know what is.
How To Watch Peptides Demystified Today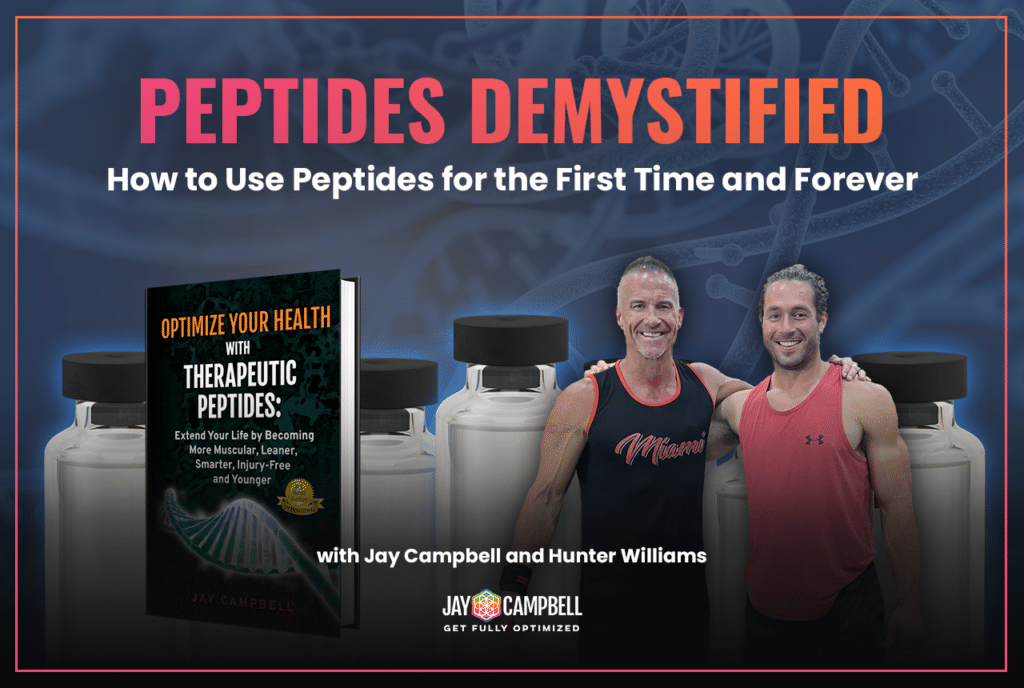 As of this writing, Peptides Demystified currently retails for $299 and we have many internationally-recognized fitness influencers who plan to promote this webinar in the coming months.
But since you're a loyal reader who's seeing this right now, you get first dibs AND a serious discount.
From today (Mary 25) and through Memorial Day ONLY, you can CLICK HERE to get the course for 40% OFF when you use code PD40 at checkout!
This is a rare once-in-a-lifetime opportunity to remove all the guesswork, confusion, and uncertainty from a revolutionary class of agents that are still in their early pioneer phase.
No more browsing through thousands of YouTube videos and Google search results to piece everything together (and still be dead wrong)
No more uncertainty because your favorite gurus can't organize what they know into a concise, easy-to-understand format with step-by-step instructions.
No more fear of completely taking charge of your own health and mastering your own destiny.
No more waiting around to have the energy, creativity, gratitude, abundance, and creativity you KNOW you deserve to have.
Peptides Demystified will absolutely teach you everything you desire to know to get started with using peptides for the very first time RIGHT NOW, TOMORROW, and FOREVER!
As always…
Raise Your Vibration To Optimize Your Love Creation!
PS – For ongoing support and coaching from me in a group setting once you've finished watching the webinar, join The Fully Optimized Health Private Membership Group.
It's your greatest opportunity to fully optimize your health and gain total access to me and my network of high-level men and women living their highest and best life.