Thank you for making the Launch of TRT Revolution a rousing success! Traffic has been strong and the TRT Revolution Team is overwhelmed with your interest in all things Testosterone. We want to show our deepest gratitude, by offering anyone who provides an honest review (5 Star is Best) of The Definitive Testosterone Replacement Therapy MANual on Amazon, a FREE COPY of my unreleased e-book: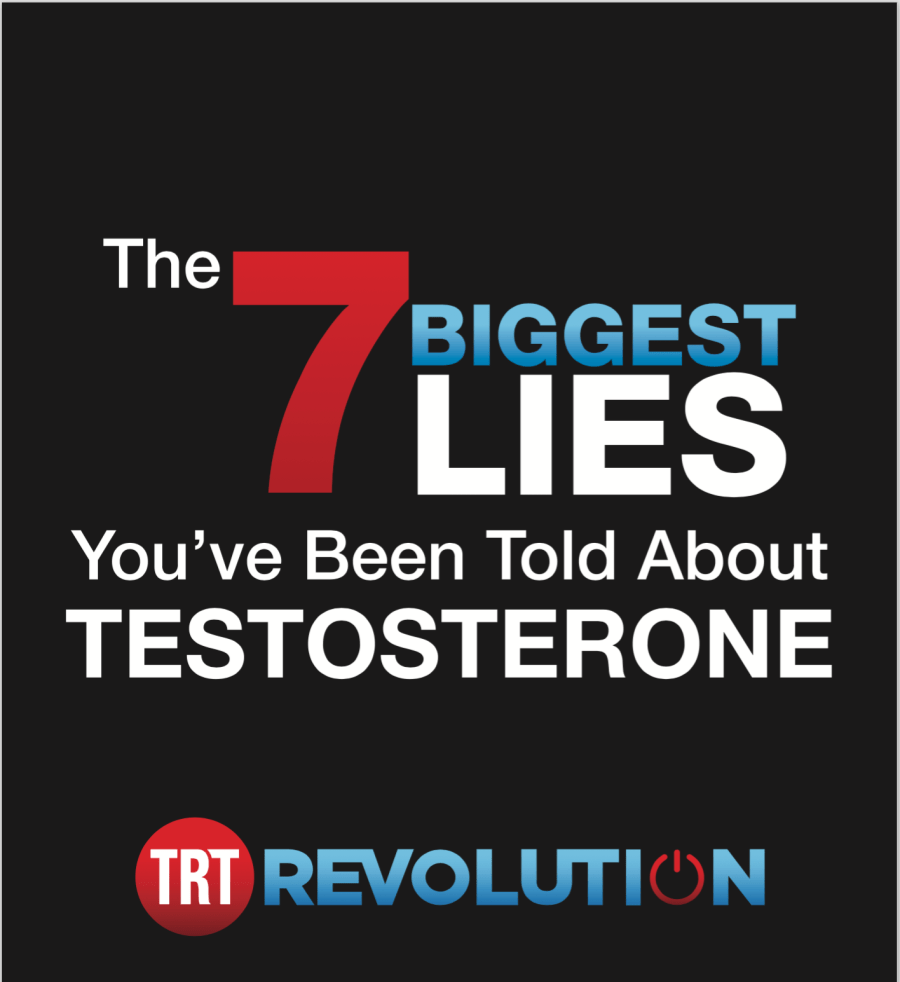 The e-book is something every man (and the women who love them) should read to understand the 100% TRANSPARENT and AUTHENTIC truth regarding the misinformation and main stream media demonization of Testosterone. Here are some excerpts from The 7 Biggest Lies You've Been Told About Testosterone: from the introduction
You, along with millions of men around the world, have been lied to about the clinical usage of Testosterone Replacement Therapy (TRT) especially in the context of health and longevity. You've been deluged with an endless stream of marketing gimmicks and hyperbolized ad campaigns all designed to sell you the latest and greatest "testosterone booster" supplement. What if I told you nearly every one of them is a total scam? In fact, they are nothing more than unproven snake oil sold to millions of unsuspecting men just like you who believe and buy into the hype. The only thing these supplements have ever done is empty your bank account. You have been to lead to believe in the false demonization of testosterone, and the truth has been obfuscated. You've been fed a constant stream of misinformation and utter nonsense ever since Testosterone was deemed a controlled substance by the DEA in 1990. Why? There are many assumed reasons. None of them matter. It's now 2016 and it's perfectly LEGAL and acceptable for you (when suffering from a Testosterone deficiency) to be scripted Testosterone by a progressive physician. I've written this short e-book to forever debunk the primary lies and negative myths associated with the usage of testosterone. I've uncovered the truth so you can make an informed decision about whether or not the clinical usage of Testosterone Replacement Therapy is right for you.
From Lie #3
Lie: You are going to lose all your hair prematurely, GO BALD and look ridiculous! Truth: Male pattern baldness (androgenic alopecia) is a genetic predisposition and not caused by exogenous testosterone usage. Baldness, otherwise known as 'male pattern baldness' (MPB), is genetic. Using TRT can defnitely exacerbate or speed up hair loss for those prone to it via testosterone converting into dihydrotestosterone (DHT). The idea of losing hair is very difficult to deal with for many men. I believe accepting symptoms of low testosterone in order to retain a receding or thinning hairline is an unequal trade off. In fact it is silly. Sometimes the difference between acting 'alpha' and living 'beta' is shaving your head in order to enjoy the myriad benefits higher testosterone provides. There are numerous medications men take to prevent thinning hair from receding entirely. The most popular are Propecia also known as Proscar. The active ingredient in Propecia is Finasteride which is a 5-alpha- reductase (5AR) inhibitor. It works by blocking the enzymes that naturally convert testosterone into dihydrotestosterone (DHT). The problem with 5AR inhibitors is not only do they inhibit the testosterone molecule itself (lessening many of the positive effects) it also reduces libido (sex drive) and weakens erections. It also may reduce fertility and lower sperm count. Do you want to experience this at the expense of keeping hair that is already falling out? No thanks, gentlemen. If your hair is that important to you, I recommend a topical application to directly affect hair at the root and to learn more about hair loss causes and available topical treatments. However, you're focusing on the wrong thing. Would you rather have a nice body (and all the other perks of having high testosterone) or be unhappy, overweight and hairy, and still going bald anyways due to your genetics?
To receive your FREE COPY of the 7 Biggest Lies You've Been Told About Testosterone, please email a screen shot of your Amazon Posted Review to: [email protected] Your review doesn't have to be lengthy.  Just two to three sentences is more than sufficient:
To read your copy of The Definitive Testosterone Replacement Therapy MANual for FREE, go here. To leave your honest review on Amazon, click here.