For all the good technology has achieved for humanity, it has also made a negative impact on our society. For many people, gadgets and devices block consciousness and critical thought. How is the digital age contributing to more noise and confusion, instead of it being a way for us to achieve optimal health? What is the balance protocol and how can we use it to make better decisions in the face of so much information? On this episode, I'm joined by functional medicine physician and creator of the Balance Protocol, Dr. Anthony G. Beck. We discuss the perils of the digital age and how to separate the helpful information from the noise.
Technology makes us lazy, it gets us away from critical thinking and we lose track of our identity. -Dr. Anthony G. Beck
Listen to the full episode:
Listen to the Episode on YouTube:
At the start of the show, Dr. Anthony discussed his journey, and how the digital age is bringing a lot of low integrity people to the forefront. Next, we talked about how to tell the difference between good information we can apply to our lives, and unhelpful noise. We also talked about how to avoid getting caught up in the Matrix. We also discussed;
How to leverage tech without letting it rule us
Overcoming dark nights of the soul
The downsides of the digital age
In a world where we are inundated and flooded with so much information, conflicting messages and even lies, we need to become filters in our own right. We need to develop the ability to figure out what applies to us, and recognize that the context of environment, lifestyle and mindset, matter as much as the information itself. Dr. Anthony's insights remind us that no matter how much technology there is out there, our humanity, hearts and souls will always transcend the noise if we plug into that and not the devices and gadgets we own. Guest Bio: Dr. Anthony G. Beck is a functional medicine physician with over 25 years of experience. He is on a mission to educate, inspire and motivate patients to achieve their highest levels of wellbeing. He is an expert in clinical nutrition, systems biology, epigenetics and nutrigenomics. For more information, go to https://dranthonygbeck.com/.
Want more?
Subscribe to Jay's email list and you'll instantly receive four of his books—including international bestseller The Definitive Testosterone Replacement Therapy MANual—100% FREE!
To Join the World's #1 Premium Access Group For Optimizing Your Hormones and Long Term Health, Click Here!

To Get your ticket to FULL SPECTRUM OPTIMIZATION-Click Here and Grab my 5th and most informative book yet: Living a Fully Optimized Life: How to Break Free from Sick Care Medicine Before it Kills You.
To Lower Your Body Fat in the Fastest Way Humanly Possible While Maintaining Maximum Metabolic Flexibility and Long Term Health CLICK HERE to pick up your copy of GUARANTEED SHREDDED!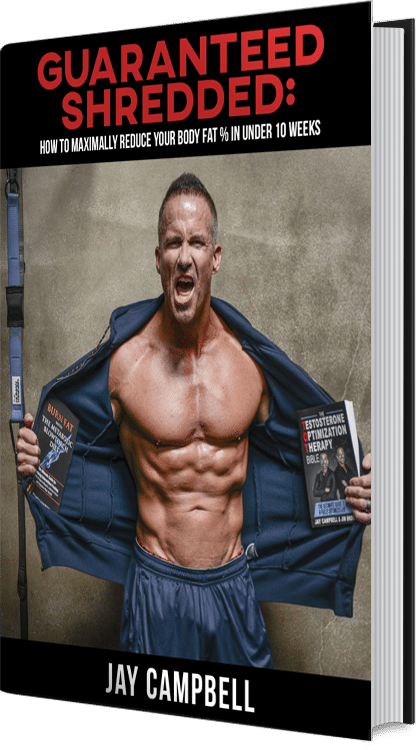 To learn how to fully optimize your health and life, read the Amazon best-seller The TOT Bible. Now available as an Audio Book too!