Gynecomastia is a growing problem among men.
Although it doesn't cause immediate medical issues, it affects how men feel about their bodies, which can lead to severe both psychological and physical health risks over time. Not to mention, the loss of self-confidence has an incredible impact on how men live their lives.
Here is everything you need to know about gynecomastia and the full extent of the issues men face every day.
What Is Gynecomastia?
Gynecomastia, commonly known as 'gyno' or more crudely as "bitch tits," is the over-development of the male breast. And it is a growing epidemic in Western society.
Estimates are saying that 60% of all men are affected by gynecomastia.
Read that sentence again.
Why do we not hear more about this?
With the average male becoming more overweight over time, men are experiencing breast tissue growth that is made worse by poor nutrition, modern-day stress, additional body fat and a combination of high estrogen and low testosterone. It is an issue that extends far beyond aesthetics and looking good without your clothes on.
Unfortunately, most men will suffer from gynecomastia in silence because of how growing breasts negatively affect self-confidence. With confidence completely stripped away, many men are too afraid to remove their shirt in public. That leaves most gyno sufferers deal with the emotional and psychological trauma that dramatically impacts their lives.
Men need to physically recover from this condition while treating the psychological component at the same time. There is no reason that modern-day men dealing with the shame and taboo surrounding gyno shouldn't be able to work with elite physicians who can treat and eliminate this condition for good.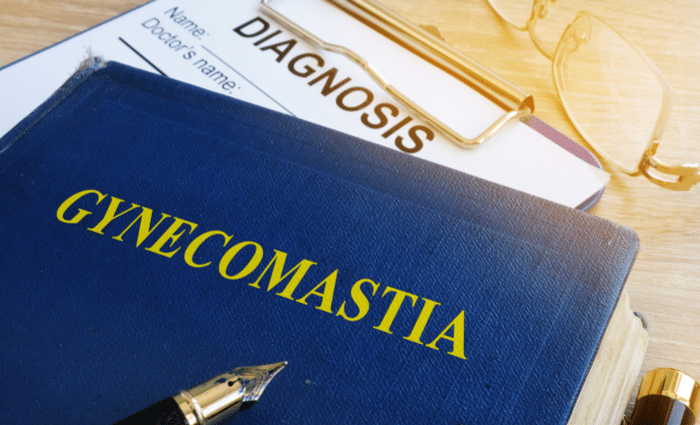 Types of Gynecomastia
There are six different types of gynecomastia.
The most common forms found in individuals who are on TOT are Types 1-3:
Type 1 Gynecomastia – described by puffy nipples and a predominantly visible gland;

Type 2 Gynecomastia – described by an increase in fat and a high gland-to-fat ratio;

Type 3 Gynecomastia – represented by an even higher gland-to-fat ratio (almost 2/3 fat).
Gynecomastia is technically defined as excess breast tissue that has been present for two years or more. Over time, the surrounding skin loses its elasticity. If there is no excess breast tissue left to hold, this loss of elasticity is relatively unnoticed.
However, if that skin is carrying the weight of gynecomastia, it will eventually fail. In these cases, a patient has gone from a Type 1 or 2 (which requires incisions that are not noticeable) to Type 3 or Type 4 (which needs progressively higher levels of skin tightening and hence, longer incisions are necessary.)
Treatment of Gynecomastia
One of the best non-surgical remedies for gynecomastia is choosing Testosterone Optimization Treatment.
Increasing the testosterone levels in the body under professional medical supervision helps you lose fat around the breast area. In combination with exercise, it can turn into muscle over time.
Testosterone can help you eliminate gynecomastia, but it can also increase your libido, sexual drive, and performance, improve your mood and self-confidence, and so much more.
If you want to achieve these positive changes in your body and your life, get a copy of The TOT Bible and learn how to do it.